Island Park is located in Eastern Idaho. The city of Island Park is only 500 feet wide in most locations and, at 33 miles, claims to have the longest "Main Street" in the world.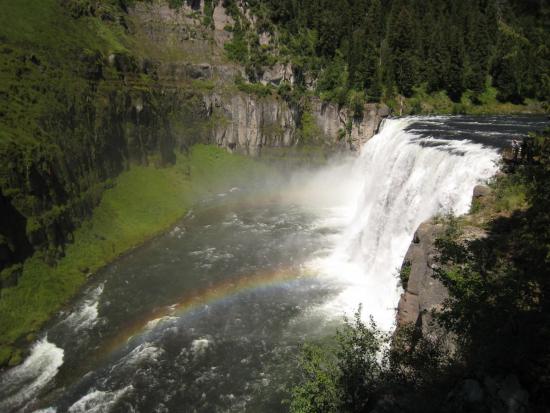 Upper Mesa Falls
The area known as Island Park is mostly a large caldera named the Henry's Fork Caldera that was created by the same hotspot that created the earlier Island Park Caldera and the later Yellowstone Caldera. Mt. Jefferson, south of Henry's Lake, is at 10,203 feet and Targhee Peak, north of Henry's Lake is at 10,240 feet. The most famous of Island Park's peaks, however, is the 9,886-foot Sawtell Peak due to both its beauty and to its strong resemblance to a Native American chief's profile while napping. It has also been called Chief Rains in the Face. You can drive to the top of Sawtell Peak where there is an FAA radar dome. It is also south of Henry's Lake near Mt. Jefferson and is a landmark visible from nearly anywhere in Island Park. The Henry's Fork of the Snake River meanders through Island Park with its headwaters at Henry's Lake and at Big Springs. The Henry's Fork is impounded by Island Park Dam to form Island Park Reservoir at the rim of the caldera just north and just outside of the caldera. In fact, the entire south bank of Island Park Reservoir is formed by the northern slope of the caldera. The Henry's Fork crosses through the caldera and then cascades off from it at Upper and Lower Mesa Falls.
Wildlife is abundant in Island Park.
Reference: Wikipedia
Cabin Location & Directions
GPS Coordinates: 44*27'22.22"N  111*27'03.23"W